Home House, the prestigious private members' club nestled in the heart of Marylebone, is all set to illuminate the city's festive spirit as it flips the switch on its enchanting Christmas lights on Monday, November 13th. This iconic event marks the beginning of a magical season, inviting members and guests to indulge in the warmth of the holidays within its historic walls. From festive feasts to relaxing overnight stays, Home House promises to be one of London's most enchanting venues to enjoy the Christmas festivities this season.
This year's festive celebrations promise to be more spectacular than ever, as Home House celebrates its 25th anniversary and over 250 years of heritage. The club will be adorned with twinkling lights and stunning silver decorations in honour of the jubilee, transforming the entire house into an extravagant winter wonderland.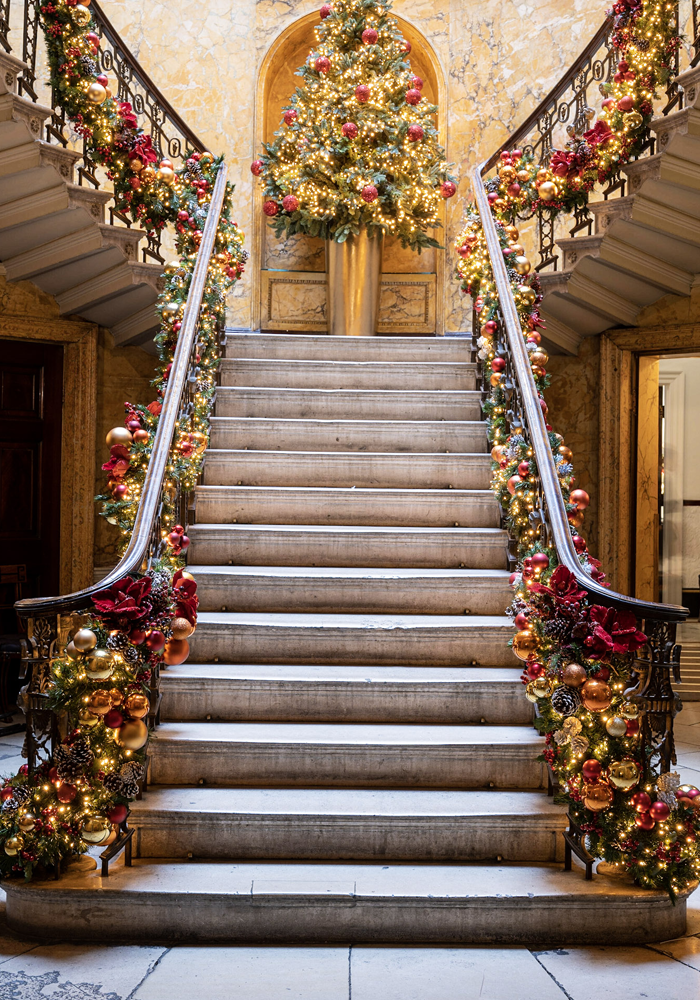 Non-members can enjoy the festive surroundings of this magnificent Grade-I listed London Palace by booking an overnight stay in one of the 23 unique bedrooms or suites. The club also hosts a variety of private dining and event spaces, creating the perfect backdrop for unforgettable Christmas parties.
A special line-up of festive member events includes the club's annual Christmas choir gatherings, enchanting Quartet by candlelight performances, creative sessions such as Christmas Wreath Making, and more.
Festive Set Menu
Members and guests can indulge in an exquisite dining experience with Home House's specially curated Festive Set Menu.
The club's executive chef Robert Panek has crafted a menu that captures the flavours of the season, featuring Christmas classics such as Roast Turkey with all the trimmings, and Christmas pudding with Brandy sauce. Bookings can be made for groups of up to 10 guests.
Christmas Staycation
For a truly special festive experience, both members and non-members can book a stay in one of the House's opulent bedrooms or suites during the lead up to Christmas, and on Christmas Eve and Christmas Day.
The 23 bedrooms and suites at Home House, named after the house's intriguing former residentsand guests including Earl (Charles) Grey and Anthony Blunt, are luxuriously spacious and retain their 18th century style of capaciousness.
Reservations can be made via email at reservations@homehouse.co.uk.
Private Dining and Christmas Parties
Ideal for private dinners and Christmas parties, Home House's elegantly adorned spaces provide the perfect backdrop for both intimate gatherings and grand celebrations for up to 140 people.
From festive lunches to late night revelry in a private setting, both members and non-members can indulge in a meticulously crafted culinary experience, set amidst the club's historic charm and impeccable service.
More information on Home House private dining and Christmas party packages can be found here.
Festive Afternoon Tea
This winter, Home House is once again embracing the Christmas spirit by giving its traditional Afternoon Tea a festive twist. Served in the opulent surroundings of the Drawing Rooms, the Festive Afternoon Tea will be available from Friday to Sunday starting from Friday 17th November.
Members and guests can delight in delicious finger sandwiches filled with festive flavours, Christmas sweets and freshly made scones from £45 per person, or £55 per person including a glass of Moët &Chandon Champagne.
Christmas Day Lunch
On Christmas Day, Home House invites members and guests to indulge in a sumptuous three-course lunch, complete with all the traditional trimmings, Christmas crackers, and delectable mince pies. Little ones can delight in a special encounter with Father Christmas. The festive feast is available to groups of 8 to 20 guests, priced at £95 per person including a glass of Champagne.
The Winter Garden Lounge
During the colder months, Home House's beloved garden undergoes a magical transformation into the Winter Garden Lounge, where members and guests are invited to revel in the cosy ambiance and enjoy exquisite hot chocolates and signature cocktails. Home House will also be offering its renowned mulled wine, prepared from a secret recipe.
Home House Celebrates 25 Years
Home House proudly announces the celebration of its 25th anniversary, as this winter marks a quarter-century since London's iconic members club opened its doors transforming the landscape of traditional members' clubs in London and beyond.
A shrine to hedonism in the centre of London, Home House was originally commissioned by Lady Home as a sophisticated palace designed purely for enjoyment to entertain London's high society of the 18th century. Famous at the time, Lady Home earned the nickname "Queen of Hell" for her "irascible behaviour and lavish parties".  Designed in 1773 by leading architects James Wyatt and Robert Adam, the walls that were home to many famous personalities throughout the years still host a collection of colourful characters and individuals today.
From Madonna making the Lady Islington Suite her home, to young royals partying until the early morning hours; from Pamela Anderson's iconic birthday party to Annie Lennox's fairy-tale wedding, Home House has played host to a tapestry of events that have left a mark on London's culture and society. Famous faces like Paul McCartney and Boy George mingle with regular members, all of whom share a common love for 'their club'.
To commemorate this milestone, Home House unveils a spectacular line up of events, including a grand New Year's Eve Anniversary Ball on Sunday, 31st December 2023.
New Year's Eve 25th Anniversary Ball
As the crowning jewel of the anniversary celebrations, Home House's 25th Anniversary New Year's Eve Ball is set to take place on 31st December 2023. The club's expert culinary team has meticulously crafted a special menu, and members and guests can expect live performances throughout the evening and a special surprise at midnight. Each floor will be transformed into a haven of elegance, setting the stage for an unforgettable night of dancing and celebration.
"We are thrilled to celebrate the rich history of Home House and its 25-year journey as a private members club." said Andrew Richardson, Managing Director at Home House Collection. "The anniversary events are a reflection of our commitment to excellence and the enduring allure of the Home House experience. We invite our members and guests to join us in celebrating this remarkable milestone, while we look forward to the next 25 years!"
Tickets for these highly anticipated events can now be purchased via the members' app and with limited spaces available, members and guests are encouraged to secure their attendance early.
Further information and details on membership can be found here.