Tucked away in the backstreets of Mayfair is Quaglino's, known for its decadence, opulence and fun atmosphere, having first opened in 1929, it oozes style and sophistication and is known to have played host to numerous stars including Elizabeth Taylor, Amanda Holden, Helena Christensen and although the invitation may not have reached The Queen, it certainly has Prince Harry.
Quaglino's have added to its dining options with its Saturday Q Brunch, it's not just about the food, it also concentrates on entertaining you in what can only be described as one of the most glamorous settings in London. Featuring live music, optional bottomless prosecco and a delicious menu of contemporary brasserie style dishes and brunch favourites, Quaglino's Q Brunch is an elegant and entertaining addition to the London Brunch scene, add to that various themed brunches and you have the best brunch in town.
We wanted to find out what all the fuss was about, so one Saturday 'brunchtime' we found ourselves walking, through a non-descript door, descend down some stairs and WOW, we found ourselves in an elegant, mezzanine bar area surrounded by plush seats, Art Deco touches,opulent accessories, and a marble topped bar that overlooked the just as glamorous restaurant with its central gold bar area and a buzzing atmosphere, we'd chosen to visit on one of their themed brunches 'Great Gatsby' and the glamorous 1920's had certainly arrived at Quaglino's.
A sweeping staircase (you really do feel like a movie star as you descend them), has you walking down into the restaurant with the bar at its centre and a stage at the far end for the live performances, one of which we were going to enjoy ourselves. Beautiful feathers and flloral arrangements adorn the room, dramatic and sumptuous interiors, quirky artworks and perfectly positioned lighting makes for a very atmospheric dining experience.
Once seated our lovely waiter began pouring prosecco into our glasses andcontinued pouringevery time our glasses were half empty (oooh I do love a bottomless bubble brunch!) The menu looked just as divine as the venue and we proceeded to enjoy starters of Quinoa, broccoli, orange and pomegranate salad, a zesty dish that had an array of delicious textures and tastes and the Quaglino's cocktail, fresh seafood that included lobster, wild Atlantic prawns and Devon crab served over ice with an avocado, mango and cucumber salsa, it was delightful.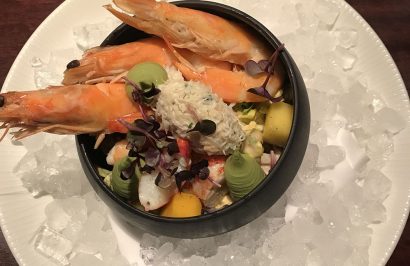 We followed this with Roast Fillet of Loch Duarte Salmon,and it had to be done, the Quaglino's Brunch Burger – both were full of flavour, fresh and nearly too much to finish, but we managed it – just! The burning question though was did we now have room for dessert? A question we mulled over whilst sipping yet another glass of prosecco (I feel an afternoon nap coming on here).
As part of the brunch experiencethere's live entertainment, so as we sat back eating and drinking we were entertained by the 'Speakeasy' band, who performed some great tunes from the 1920's making us feel like we were back in the era enjoying a drink in one of the many prohibition bars of the day.
Suitably rested, dessert was an option that we were going to squeeze in, and we're glad we did – White chocolate & lemon brulee with a date and Earl Grey puree along with Panna Cotta served with plums and a hazelnut ice cream – both dishes were the perfect end to a fabulous food experience, not too heavy on the tummy, but full of flavour on the palette.
If you're looking for the best brunch, served in fabulous surroundings with a little booze and entertainment thrown in then you really do need to pay a visit to Quaglino's for their Q brunch, we'll definitely be making a repeat appearance.
A Saturday Q Brunch starts from £30 for 2 courses and £35 for 3 courses, free flowing prosecco is available for £23 per person when eating two courses or more. For more information or to book visit, www.quaglinos-restaurant.co.uk