Walk out of Aldgate Underground Station and step straight next door into a world of understated grandeur at Hotel Saint (previously the Dorsett City London). This hotel has undergone a stylish, chic brand transformation that'll have you indulging in a sanctuary of luxe as soon as you walk through the doors.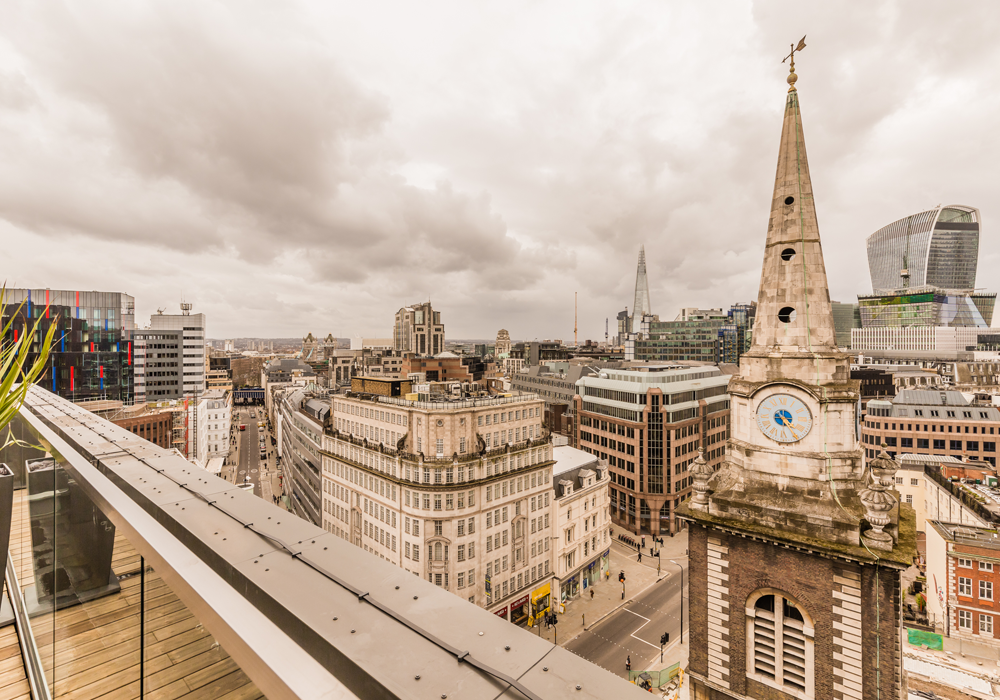 Located in the heart of 'The Square Mile' and inspired by the site's ancient 2,000-year-old Roman history, HotelSaint islocated next to the refurbished St Botolph's Church, which dates back to the mid-1700s (the novelist and journalist Daniel Defoe was married there) and is at the crossroads of several of London's most vibrant neighbourhoods – including Spitalfields, Shoreditch and Whitechapel.
Stepping into the modern stylish lobby, not only does the décor reflect warmth and elegance so does the calm and friendly smiles from the staff, all of which makes the foundation for a 'nothing is too much trouble' attitude.
The hotel has 267 rooms and suites spread over 13 floors with all of them enjoying floor-to-ceiling windows that allow stunning panoramic views over the London skyline.
Our room, the 'Botolph' Junior Suite was the epitome of stylish elegance, an open- plan layout decorated in soft neutrals accentuated with gold and dark hues, and the most divine scent that floats around the suite creating an immediate sense of serenity.
Adorned with crisp white cotton bedding the king-size bed was made for cosiness and comfort and with a wide-screen TV here and in the living space, they'll definitely be no arguing over the channels!
Soak in the lavish bathtub or take a long hot waterfall shower in the marbled bathroom before wrapping yourself in thesoft, fluffy bathrobes and pouring a refreshing glass of champagne, before sitting down and marvelling at the awe-inspiring far-reaching London views that include the iconic Saint Botolph and The Gherkin, this really is an impressiveexperience, that can be enjoyed without even leaving your room.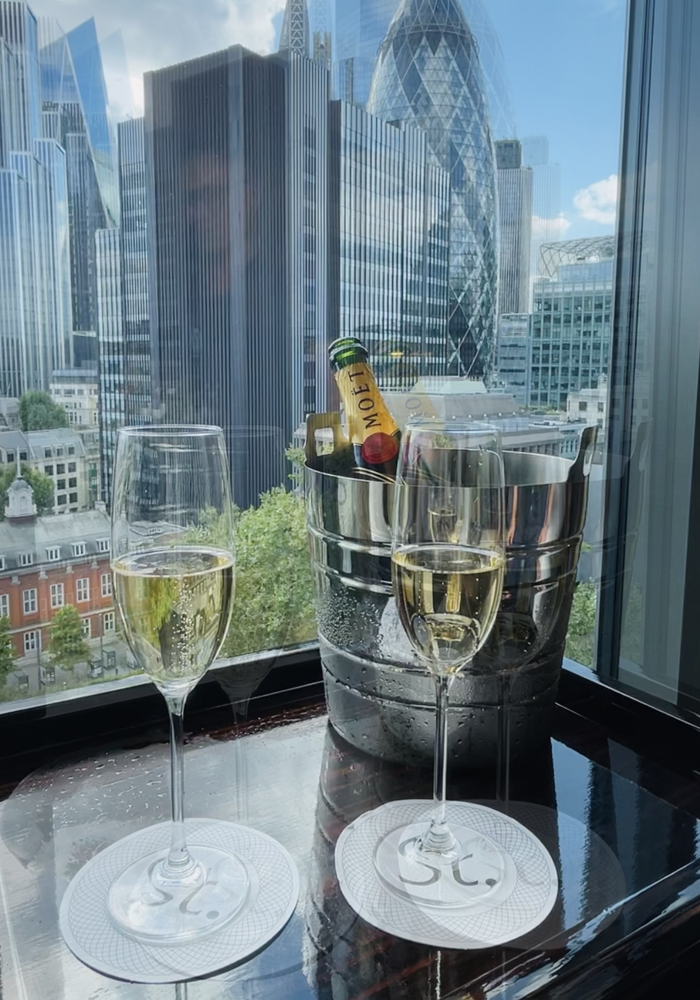 If you can drag yourself away from your room just for a while and take the elevator even higher to the 14th floor you won't be disappointed – It's here that Jin-Bo Law the hotel's exceptional rooftop bar is located, a place to indulge in carefully concocted cocktails such as 'Cherry Bomb' 'Saint' and Jin Bo Papi' whilst soaking up the atmosphere and experiencing even more mesmerising views of London's skyline asday turns into night.
A must-dine eatery when staying at Hotel Saint, is Crispin, an all-day modern European restaurant and wine bar in Spitalfields and just a few minutes' walk from the hotel.
Serving an array of sumptuous seasonal sharing dishes and low intervention wines, we tempted our taste buds with plates of Smoked mackerel pate – Portland crab– Courgettes with chickpeasand Breaded bacon chops served with anchovy butter and potato salad. They say you eat with your eyes and these dishes certainly had the aesthetic and the taste. The flavours and textures combined together seamlessly to create dishes that were an absolute delight on the tastebuds. There was a real lively buzz in the restaurantcreating an atmosphere that makes Crispin the ideal place to enjoy breakfast, lunch or dinner at anytimeduring your stay.
Back at Hotel Saint, it seemed rude not to elevate back to the 14th floor for a nightcap at Jin-Bo Law, and inhale the breath-taking views of the iconic London skyline as it lit up around us.
Hotel Saint is a hidden gem, a sophisticated oasis of pure unadulterated calm, right in the heart of the city, a faultless base to explore, relax and reset.
BOOK IT
Room rates at HotelSaint start at £234 per night for a Superior, Towre Hyll King Room.
For more information or to book, visit www.hotelsaint.com