Villatravellers, a villa company dedicated to providing exclusive holidays across all of Sicily, Italy, was founded over 15 years ago by Managing Director Roberto Sortino and the portfolio now includes over 70 meticulously selected properties that span across every part of the island.
Brand & Location
Villatravellers' properties combine the indulgences of a five-star hotel without compromising on the familiarities and privacy of home. Along with incredible customer service and a willingness to cater to any request, the team boasts a thorough understanding of each property in the portfolio which enables them to efficiently advise guests and select their ideal hideaway. In addition to this, the brand has built long standing relationships with all villa owners, ensuring each property is impeccably maintained and offers a genuinely relaxed and welcoming atmosphere.
Villatravellers prides itself in its expert local knowledge across all regions of Sicily, which is renowned for its diverse offering – each corner carrying its own identity. The brand provides experiences for every area that showcase the island's culture, natural beauty and gourmet scene. Guests can enjoy sandy beaches along the south coast, rocky shores on the east, immerse themselves in the Arab-Norman culture of the north region or explore the Baroque towns of the south. Carefully tailored tours to nearby offshore islands are also available including the Aeolian Islands, the Aegadian Islands, the Pelagie Islands and Pantelleria and Ustica.
Properties
Villatravellers' impressive collection of properties ensures there is a home to suit even the most discerning guest, from a romantic honeymoon escape, to a multi-generational getaway, a historical haven or a no expenses spared ultra-luxe base. Due to the island's diverse landscape, guests can enjoy a slice of 'la bellavita' and experience Italy surrounded by lush greenery or by the shores of a crystal clear sea.
Villa Erakle (Eraclea Minoa, South Sicily) – A Multi-GenerationalFamily Getaway   
This newly built modern villa is the ideal getaway for those looking to relax with all the family. Located near a secluded beach and offering plenty of alfresco dining, the property is set over three floors – all with comfortable sleek furnishings.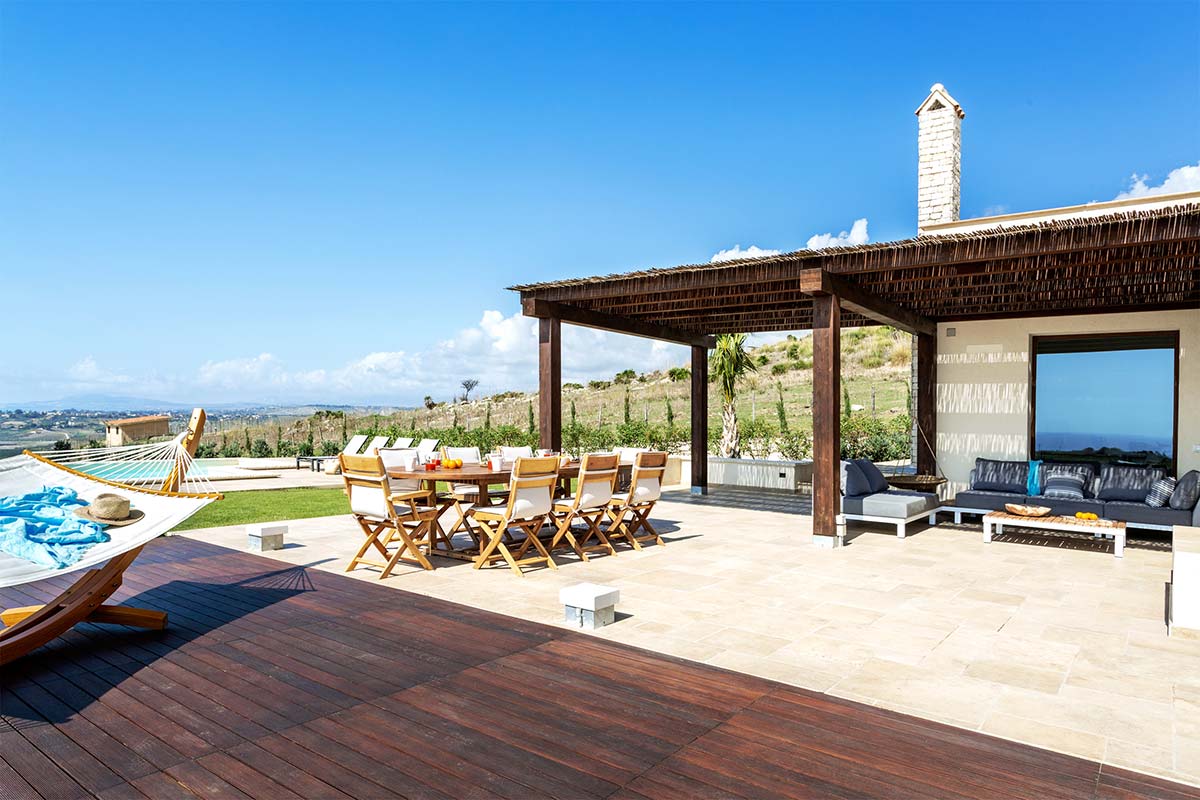 In the main living area, there is a beautiful fireplace and large windows offering breath taking sea views. The outdoor area includes a beautiful terrace, hammock, outdoor shower and private pool.
Erakle features 5 bedrooms and sleeps 10 guests, available through Villatravellers from £3,495 per week.
www.villatravellers.com/sicily/villas/erakle
Perla Nera (Viagrande, East Sicily) – The Height of Luxury
Exquisite and secluded, this 7-bedroom villa is the epitome of luxury and dates back to the 1500s. Ideal for entertaining, the aristocratic property features a grand garden and boasts an impressive collection of antique furniture. The barbecue area is surrounded by atmospheric plants, the garden hosts multiple stone statues and the pool is fringed with towering palm trees and built with black lava stone resulting in inky-blue waters.
Tastefully designed down to the most delicate detail, the traditional Sicilian decor boasts painted wooden bed frames, magnificently carved dressers and ornamental tables. An atmosphere of historic elegance reigns throughout the property which features a reading room, entrance hall and dining room.
Perla Nera features 7 bedrooms and sleeps 14 guests, available through Villatravellers from £3,970 per week.
www.villatravellers.com/sicily/villas/perla-nera
Villa Respiro (Letojanni, East Sicily) – Romantic Couples Retreat
Flowing romance, a large pool, and lots of luxurious space, this 5-bedroom private villa is full of natural light, space and is just a few minutes walk to the beach for a romantic stroll. Couples can enjoy alfresco dining on the two-seater table, offering panoramic views of the turquoise waters of the Mediterranean sea.
The home features a pool area with sun loungers and the top terrace boasts a secluded Jacuzzi. Inside this sophisticated villa, style and minimalism prevail throughout. The main master bathroom boasts a large hydro-massage bath and large shower, perfect for relaxing after a day of soaking up the Mediterranean sun.
Villa Respiro features 5 bedrooms and sleeps 10 guests, available through Villatravellers from £2.930 per week www.villatravellers.com/sicily/villas/respiro
Bespoke Experiences
Villatravellers' dedicated concierge service offers 'in-villa' and 'outside-villa' experiences, all arranged down to the finest detail. Experiences are designed to showcase the authentic side of Sicily and include cookery classes, street food tours, boat trips, jeep or quad tours and wine tastings. Highlights include the 'Siracusa& Noto Tour' in the south, which takes guests to Siracusa's historic ruins, magical archaeology park, traditional Greek theatre, Piazza Duomo and Fountain of Arethusa.
Foodies can also enjoy the Catania Street Food Tour and the more adventurous traveller can embark on the Mount Etna jeep experience to visit the island's most iconic landmark.
For more information on Villatravellers, please visit www.villatravellers.com/
 In light of Covid-19, Villatravellers is offering flexible cancellation policies to ensure guests book with confidence. More information available here.