The image of the Maldives as a paradise and the perfect destination for an unforgettable vacation is familiar to everyone. However, only those fortunate enough to have been here know that no images and stories can describe all the splendor and variety of experiences this place provides. Its natural perfection and beauty embodied in crystal clear lagoons, white sandy beaches, lush tropical vegetation on the islands, and underwater marine life have given a perfect setting for Hideaway Beach Resort & Spa, a world-class resort for those who demand pure luxury and the utmost in romance and adventure. This year, the resort's impressive list of accolades has been enriched by its new status as the winner of Luxury Lifestyle Awards in the category of The Best Luxury Hideaway Resort in Maldives.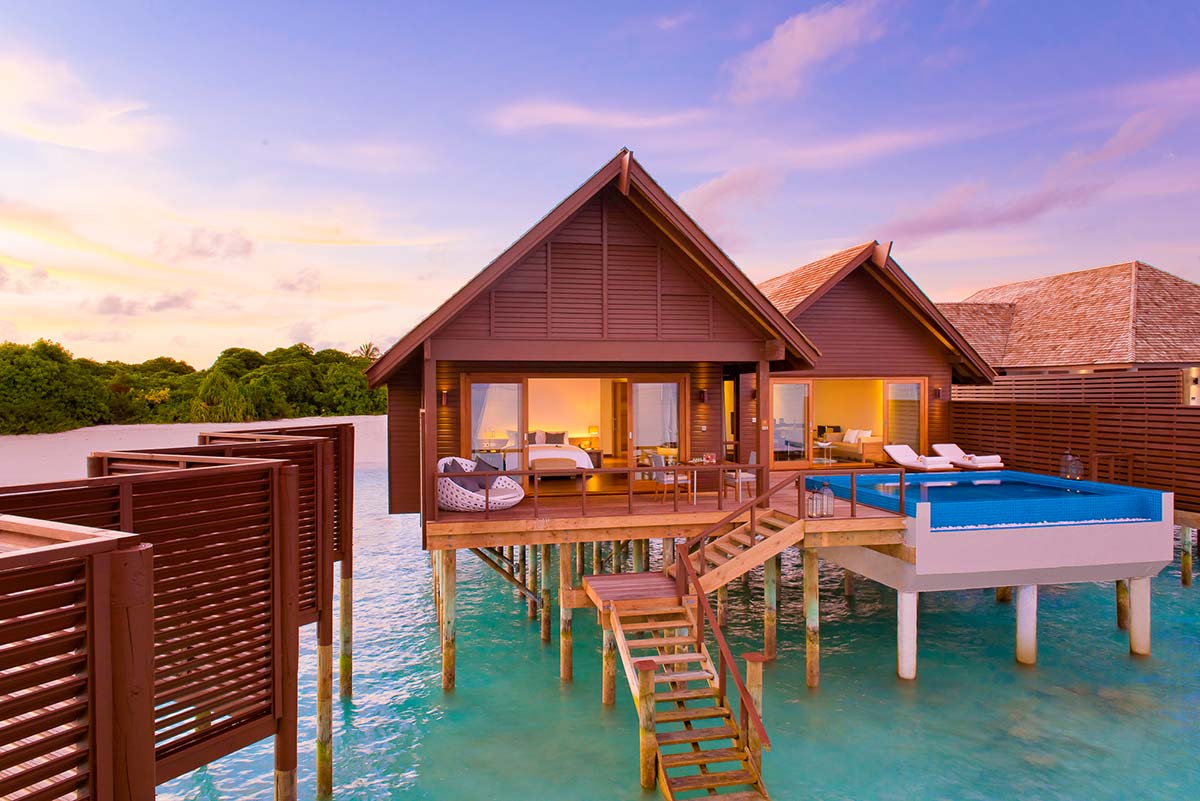 The five-star Hideaway Beach Resort & Spa is located on Dhonakulhi Island, HaaAlifu Atoll, in northern Maldives. It takes a little over an hour by seaplane to reach the 33 hectares island from Velana International Airport. Here sophisticated travelers will find the perfect place for a secluded getaway for couples and families alike. The resort boasts a beautiful turquoise-blue lagoon, long spectacular beaches, a unique double house reef, and one of the only fully functional resort marinas in the Maldives.
Hideaway Beach Resort & Spa boasts 101 luxury villas of 9 types from 130sqm to 1,420sqm, offering a magnificent spacious beachfront and over-water experiences. Each villa comes with all the modern amenities for an ultra-comfortable vacation, a personal butler to take care of guests' needs, and two bikes to explore the humungous island.
The resort's Matheefaru Restaurant offers a wide variety of international cuisines with breakfast and dinner selections, themed nightly buffets, and two private pavilions over the water for an intimate dining experience. Meeru Bar and Grill is the perfect place to enjoy authentic pizzas, fresh lobster, and meat cooked on the Lava Stone Grill and especially a place to try out the resort's novel Fish Market Concept, where guests can enjoy fresh fish cooked to their liking with a number of different combinations to choose from whether it be fried, grilled or sushi – have it your way.
"We are extremely pleased and proud to win the prestigious Luxury Lifestyle Awards. It is a great credit to every member of the Hideaway Beach Resort & Spa team and our dear guests who inspire us to provide only the best services and positive emotions," said their Group Director of Sales & Marketing, Mr. Imroz Uddin.
The cutting-edge Hideaway Spa features 12 treatment rooms,a steam room, outdoor pavilion, manicure/pedicure station, a relaxation zone, and a retail area. Along with traditional spa therapies, guests at Hideaway Beach Resort & Spa get to enjoy Balinese massages and ayurvedic treatments- including the Kerala Massage and the Abhyanga Massage.
After a day at the spa, relax and rejuvenate while watching the sunset at the Sunset Pool Café Beach Club. What is more, taste and feel the difference as you enjoy a higher level of freshness from the cuisine, since Hideaway has fresh produce from their vegetable farms and fish from the ocean every single day. This "Farm & Ocean to Table" concept is done under the watchful management of Executive Chef Carlo and is surely one of many experiences not to miss while at your hideaway at Hideaway.
About Luxury Lifestyle Awards
Luxury Lifestyle Awards is a global award selecting, recognizing, celebrating and promoting the best luxury goods and services all over the world. The goal of the company is to connect people with the best of luxury. LLA has evaluated more than 10 000 various goods and services in 400 categories from 60 countries and analyzed the results to give you a TOP list of the best of the best in the world. Such world-renowned brands as Chanel, Dom Perignon, and Ferrari were proudly named winners. The victory brings companies status and recognition, global promotion and exposure to an entirely new market of customers.
For more information, please visit: https://luxurylifestyleawards.com/