Alfresco cocktails on a sunny spring day, is there a better way to spend an afternoon? Especially when it's not just the cocktails that are exceptional.
.
I'm perched high above the streets of London drinking in not only my cocktail but the far-reaching spectacular views of the London skyline from The Rooftop on the 7th Floor of The Trafalgar St. James Hotel – Eye level with Nelson sitting atop his column, I almost feel I should offer him a sip of my cocktail! A stunning space that you can visit all year round, day or night, whether you're staying at the hotel or not, but staying we were and what a treat we were in for.
The Trafalgar Room, (now I felt I should become friendlier with Nelson) was to be our home for the night, a stunning space, decorated in a contemporary urban London style with a large window in the lounge area looking directly out onto Trafalgar Square. A cluster of music artwork above the bed including a picture of Mick Jagger creates a great focal point. The bathroom features a walk-in shower and bathtub, along with Molton Brown Toiletries (one of my favourites). Complimentary WIFI, soft drinks from the mini bar along with a Nespresso Coffee machine, make this the perfect retreat to return to after a busy day or night of enjoying all that London has to offer.
Initially opened in 2001 as The Trafalgar, this was Hilton's first unbranded hotel in London. In 2017 It was completely refurbished and reopened as The Trafalgar St. James, part of Hilton's Curio Collection, blending innovative, bold designs with excellent service making it an iconic London hotel poised on the edge of St. James, and Trafalgar Square and a stone's throw from Soho, Mayfair and the West End.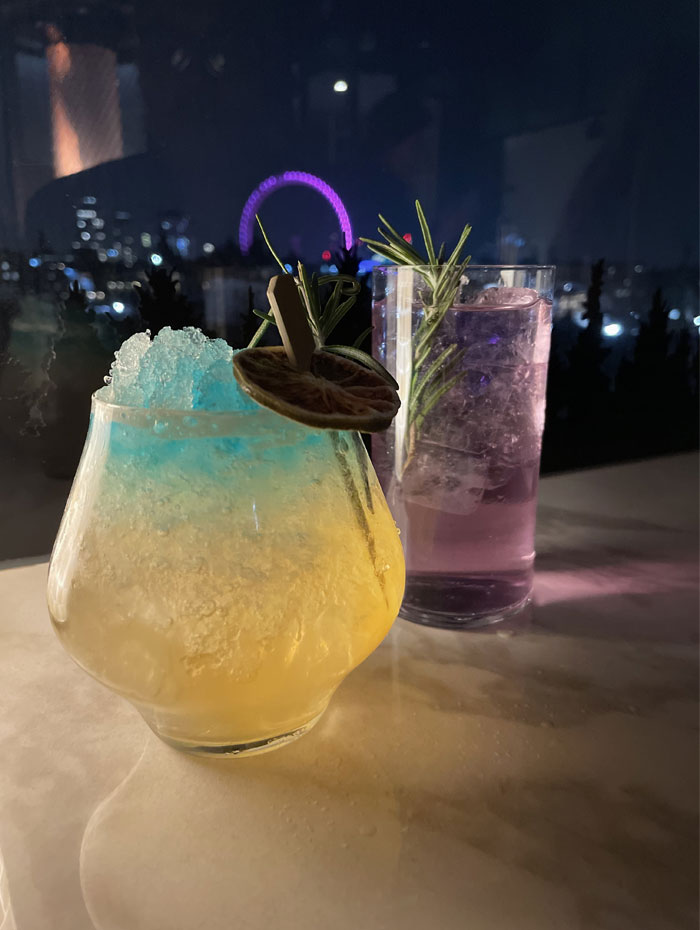 The hotel's Rockwell restaurant was closed during our stay (it's only open for dinner Wednesday – Saturday), so we headed back up to The Rooftop for dinner, to not only devour delicious food but also more captivating views of the city's skyline, that include Big Ben, The London eye, The Shard and Trafalgar Square.
Sipping on our perfectly crafted cocktails 'Across the Equator' a mix of Butterfly Pea Flower infused Tanqueray 10 Gin, Citric Acid, Rosemary Syrup and Pink Grapefruit Tonic, and 'Aurora' a blend of Spiced & Jamaican Rum, Winter Spice Liqueur, Aromatic Bitters, Lemon Juice and French Merlot as we sat under the outdoor heaters wrapped in blankets looking out into the twinkling sky of London was the perfect way to begin our dining experience.
We began with appetisers of Salt & Pepper Fried Squid served with aioli and lemon and Mushroom Sliders (three small buns filled with mushroom and melted cheese), both were a real delight to our taste buds, and were washed down perfectly with a glass of chilled Saint Sidoine Rose.
Mains were Grilled Salmon, served with sorrel cream and Gran Sardo Cheese Wheel & Linguine with Smoked Bacon, the freshness of the ingredients were obvious in the combination of textures and tastes in these delicious dishes.
Dessert was Pineapple Carpaccio with Coconut Sorbet, refreshing, light and a perfect end to a great evening.
After a blissful night's sleep, it was time for breakfast, which was served in Rockwell. In here the botanical themed décor, high windows, tropical drapery and lush green foliage gives the impression of a breath of fresh air, not an easy thing to do on a busy corner of Trafalgar Square! Back this up with an art deco feel, with fringed low-hanging lamps and petrol blue stools lining the bar and breakfast never felt so good
We indulged in a help yourself breakfast bar buffet that included pastries, cheeses, fruit, fish, fresh bread and so much more. We opted for 'Eggs Royale' and 'Avocado and Poached Eggs' from the menu which just like everything during our visit to The Trafalgar St. James certainly didn't disappoint.
The Trafalgar St. James, is an elegant sanctuary of style, a place to rest and play situated right in the heart of the hustle and bustle of St. James, coupled with the wonderful service they offer their guests, The Trafalgar St. James should be on everyone's radar when planning a visit to the Capital.
BOOK IT
Prices start from £313 based on two people sharing.
For more details or to book visit www.trafalgarstjames.com