Our round-up of the latest Food and Drink Offerings
A Summer Dream
Fresh strawberries and cream signal the start of summer and this year as the weather hots up, supermarket Aldi is giving the classic cream a modern-day twist with its limited-edition Extra Thick Strawberry & Prosecco Cream, combining prosecco, cream and strawberries – the iconic summertime favourites all in one, time to Indulge in heavenly dollop after dollop of this mouth-wateringly delicious treat.
Refresh and Sparkle
With the UK weather staying beautiful, it's time to cool down with Tame & Wild's sophisticated all natural, non-alcoholic sparkling drinks made from English fruits and botanicals.
The delicious and refreshing summer drinks fare perfect for home entertaining or outdoor picnics (while abiding by lockdown rules, of course). Flavours include Strawberry & Lime Flower, Rhubarb & Elderberry, Blueberry & Dandelion and Damson & Rosehip all natural, with no nasties and contain less than 5g of sugar, and less than 30 calories.
Whisky Club
The Craft Whisky Club handpick the finest small batch and artisan whiskies, carefully selecting exciting and innovative distillers from Scotland and beyond. Each box includes a specially selected food pairing and information about the distillery. Choose from either 1 bottle or 2 bottles of whisky every 2 months. Bottles come from award winning distilleries from all over the world such as American Whiskey, Rye and Bourbon producer High West from the Rockies, to independent bottler and blender extraordinaire, Douglas Laing who has just launched The Epicurean Edinburgh Edition, which pays homage to Scotland's historic capital. The membership starts from £29.95 per month www.craftwhiskyclub.com
Bring Home the Cocktails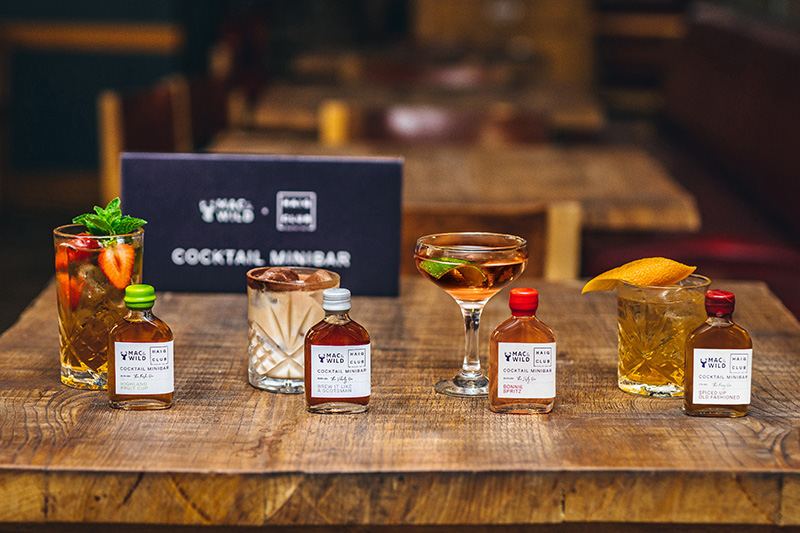 This summer, Haig Club, and award-winning Scottish Restauranteur & Butcher Mac & Wild are bringing the bar to people's front doors with the launch of its first limitededition Cocktail Minibar.
Whether it's sipping summer cocktails on the balcony or rummaging through the athome allotment for a garnish, each cocktail comes with its own personality to suit every occasion.
Available now for £25, the Cocktail Minibar features four delicious mini whisky cocktails, Spiced Up Old Fashioned, Brew it Like a Scotsman, Highland Fruit Cup and Bonnie Spritz all available for delivery via Mac & Wild's new at home cocktail delivery service, as well as Amazon Prime, Whisky Exchange and Master of Malt.
Sea Change Rosé
Eco-conscious wine brand Sea Change has launched its first premium wine, a refreshing, crisp and light Provence Rosé.
From the award-winning Chateau Pigoudet in the heart of Southern France, the brand new Provence Rosé is fresh and zesty with delicate hints of grapefruit, white peach and tropical pineapple. Perfect for those warm Autumnal evenings and accompanying seafood dishes.
As with all Sea Change wines sold, the brand makes a donation to marine conservation charities to fight plastic pollution with every bottle sold, with minimal packaging and no plastics used on the bottle and closure. You'll feel like you're making a difference with every crisp glass!
The new Provence Rosé and the Sea Change wine collection is available to buy online at www.seachangewine.com with the Provence Rosé at £15.99 or £13.99 for a mix of six or you can buy the Provence Pack comprising 3 bottles for £42.97.
Chocoholic Mini Treats
Perfect your picnic with a chocolaty treat from Cadbury Minibites. With four indulgent treats to choose from, including cookies, bite-sized cornflake clusters or flapjacks, they're perfect for a family day out, or a socially distanced picnic with friends. Available for £2.00 each from leading supermarkets.