Our round-up of the latest Food and Drink Offerings
Pimp your Drink
Spritz your drink with CÎROC Summer Watermelon, the limited-edition flavour from CÎROC vodka. This new variant is the perfect addition to any late summer garden celebrations and fabulous cocktails in the sun.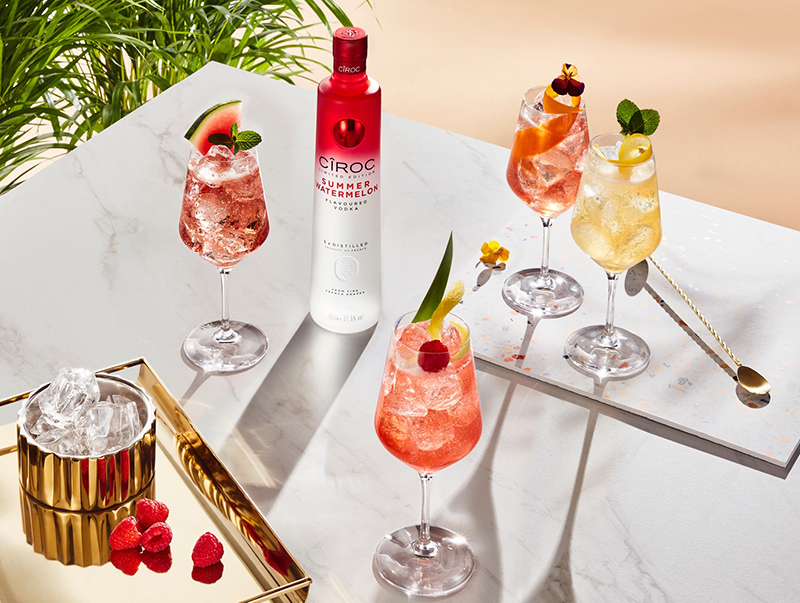 It works perfectly as a fruity foundation of a sensational spritz that oozes sunshine in every sip. All you need to add is cranberry juice, soda water and sparkling wine, and ta-da! Availabe on Amazon with a RRP £32.
Zero Water
If you like the idea of purified water at home, but don't want to spend hundreds of pounds a year on bottled water, the Zero Water's (£39.99) 12-cup water filter jug is the first in its class to benefit from a sealed lid and reservoir which allows filtered water to be poured while water which hasn't yet been filtered remains in the reservoir.
It also features a one-handed, pull and pour button spout for easy pouring from the fridge or for filling bottles. Four additional stages of water filtration ensure larger particles and other contaminants are removed, ensuring the filter delivers a "000" reading on the included laboratory-grade water quality meter.
Pimms O'Clock Moment
With so many Brits holidaying from home this year, Pimm's is giving the nation an opportunity to win an extra special 'Pimm's O'Clock' pop up experience to help create lovely memories between a group of friends and family in the garden.
The winner will receive the use of the Pimm's O'Clock Truck, which has never been offered to the public before, for one afternoon to enjoy with friends and family. In true Pimm's O'Clock style the experience comes with a pop-up bar, outside immersive hosting space and everything to make the perfect Pimm's summer afternoon.
All you have to do is Snap a photo of your very own #PimmsOClock moment shared amongst friends, whether that's a BBQ in the garden, a picnic in the park, lunch around the kitchen table, on the beach watching the sunset, or wherever else you're enjoying your Pimm's, and share on Instagram.
Entrants must follow @Pimmsgb on Instagram, tag @Pimmsgb and use #TheOriginalTasteOfSummer when posting their photograph. (T&C's apply).
Tasty, Tasty
The special edition Tasty Cookbook, is the perfect personalised gift idea. It is the World's only fully customisable cookbook, meaning that every recipe is perfect. There's a range of themes including original, vegan or vegetarian.
You just pick your own recipes from the tasty options and they're added to the book, You can also select a personalised cover with the recipient's name added to the front cover of your choice.
The My Tasty Cookbook is available to buy online for £18.99 (Paperback) or £19.99 (Hardback) at MyTastyCookbook.com