Escape to River Cottage HQ to be inspired, learn a new skill and relax in beautiful surroundings
Following the success of their first retreats in 2019, River Cottage have designed a series of exceptional three-day experiences throughout July 2020. Held at their stunning 100-acre smallholding nestled in a valley where Dorset and Devon meet, they will be hosting a month of focused retreats on wellness, nutrition, drawing and gardening.
River Cottage has always been a place to escape to, a sanctuary from daily life and an opportunity to be immersed in the wild world. They work in rhythm with the seasons and nurture discovery and wellbeing through many of their courses and events, welcoming guests to join them on their sustainable journey. The inspirational programme for each retreat includes some favourite elements of River Cottage combined with the skills of visiting expert contributors. These intimate three-night restorative residentials offer the opportunity to discover and explore new passions and awake old interests.
Through expert tuition and advice, guided reflection, mindful outdoor activities, fireside conversations, yoga and more, guests will be shown how to create space in their lives for what they love and make choices that support their physical and emotional wellbeing. Each retreat includes breakfast, lunch and dinner menus of local, organic, seasonal produce which reflect the River Cottage passion for provenance and sustainability. Accommodation is provided in the stylish 17th century farmhouse or take a wilder approach in one of the cosy bell tents. Massage and reiki will be available to guests at an additional cost.
River Cottage will host a three-day yoga and wellbeing experience that embraces exercise, mindfulness and life changing action as well as creating the perfect environment to encourage relaxation and rejuvenation. This retreat is an invitation to those who are keen to practice yoga, learn more about breathing and meditation and find solutions to a chaotic life. Led by teacher and best-selling author of 'Do Breathe', Michael Townsend-Williams will run workshops including understanding how to relax and sleep well, the art of welldoing and living with intention.
Michael Townshend-Williams is a doer who likes to be. From a life of 'doing' in the world of advertising to a life of 'being' as a yoga and mindfulness teacher, Michael now works on the integration of both – welldoing – as founder of Do Breathe. He created the world's first biofeedback breathing app for iPhone – BreatheSync – and is now practising this in his coaching and workshops. His best-selling book 'Do Breathe' has been published in Europe and USA.
River Cottage Mindful Drawing Retreat 13–16 July 2020
River Cottage HQ will host a three-day art experience that embraces sketching, mindfulness and delicious food as well as creating the perfect environment to encourage relaxation and rejuvenation. This is not a skills-based retreat, it is an invitation to drawers at all levels of ability, whether you are a beginner keen to get started or an artist looking to develop confidence and technique. The emphasis will be on drawing practice with exercises framed by simple meditations that expand insight and understanding. Artist and professor Tania Kovats, and global consultant and psychotherapist Jane Sassienie, have developed and will lead the art, meditation and mindfulness workshops.
Tania is an international renowned contemporary artist who is Professor of Drawing at Bath Spa University. Drawing has always been part of her creative process and her books on the subject include The Drawing Book: Drawing as the Primary Means of Expression, and Drawing Water: Drawing as a mechanism of Exploration. She will be teaching from a belief that drawing as a practice can provide tools of respite and creativity rather than delivering a formal, skills based curriculum.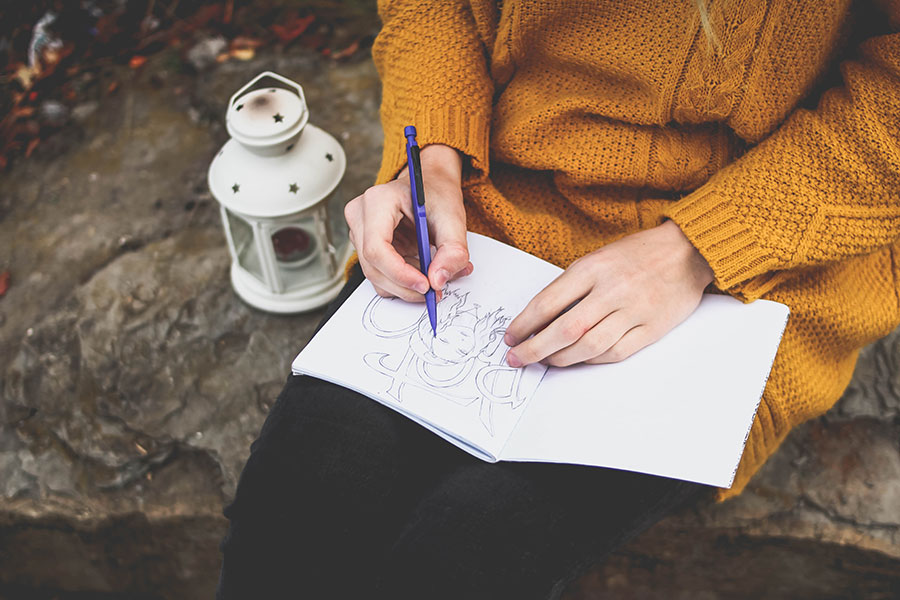 Jane is a co-owner of the global consultancy Bridge Partnership and has worked for over 25 years successfully helping organisations change, developing leaders in many sectors all over the world. Jane guides others to grow practices that support their own evolution. Before studying organisational change and psychotherapy Jane's first degree was in art, an approach that often returns to her life to enhance and vitalise her ways of seeing the world.
River Cottage will host a three-day garden experience that embraces designing, planting, growing and harvesting as well as creating the perfect environment to encourage relaxation and rejuvenation. Whether you are starting out on your first garden project or want to update your existing garden, this in-depth retreat will give you the time and space to learn and be inspired. The retreat will be led by three experts who specialise in different areas of horticulture – expert garden designer Anna Wardrop, River Cottage grower and Meadowsweet florist, Emma Dixon and the River Cottage Head Gardener.
Anna Wardrop is a successful garden designer, who splits her time between urban life and the country idyll. Her recent projects have included commercial and community spaces as well as residential gardens and roof terraces. She takes an immersive approach to garden design, tailoring the process to suit each individual client and site.
Emma Dixon is a cut flower grower and florist who has worked with River Cottage for over 7 years. She makes beautiful flower arrangements for weddings, makes wreaths and runs workshops through her company Meadowsweet Flowers.
River Cottage Nutrition Retreat 27-30 July 2020
River Cottage will host a three-day cookery and wellbeing experience that embraces fermentation, gut health, yoga and mindfulness as well as creating the perfect environment to encourage relaxation and rejuvenation. This retreat is an invitation to those who are keen to embrace healthier eating habits, develop confidence with ingredients and extend their kitchen skills.  There will be morning yoga sessions, walks in nature, foraging and garden forays throughout. Expert tutor and nutritionist Naomi Devlin will lead the cookery and fermenting workshops, sharing her extensive knowledge and advice on gut health.
Naomi Devlin is a nutritionist, author, teacher and unashamed foodie, blessed with a coeliac diagnosis after having her son. Using whole-grains and sourdough cultures, she loves to get excited about the flavourful possibilities of free-from baking and will answer any question on health and diet you care to dream up! Naomi leads the Gluten Free, Advanced Gluten Free and Seasonal Nutrition courses at River Cottage HQ.
www.rivercottage.net/river-cottage-nutrition-retreat
Prices start from £1035 per person
For more details visit www.rivercottage.net/retreats