Venice, known to be one of the most romantic cities in the world, the perfect destination for a romantic getaway, the fervour of love is around every corner, and no matter how many times you visit it always takes your breath away.
Approximately 60 kilometres (37 miles) west of Venice is Vicenza, a thriving and cosmopolitan city, rich in history and culture, with many museums, art galleries, piazzas, villas, and churches, the perfect yinto Venice's yang.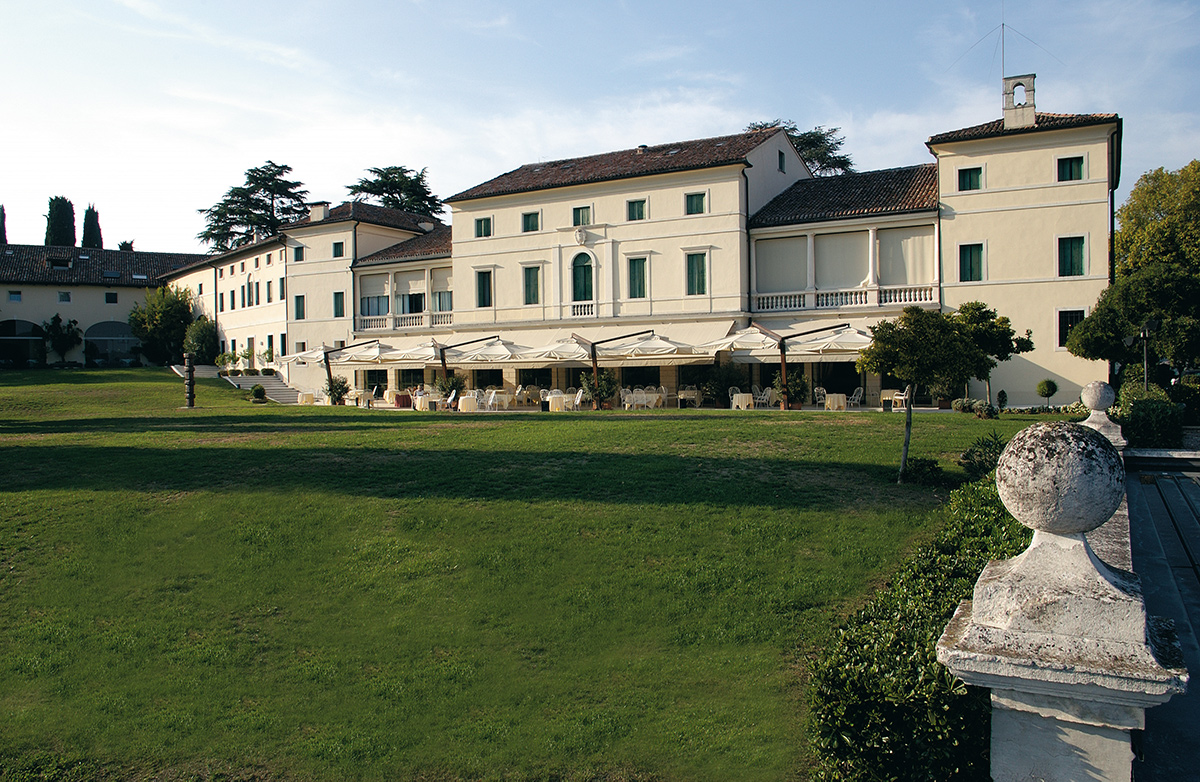 Combine both these cities together for a romantic getaway and you have the best of both worlds, the tranquillity of Vicenza to the vibrancy of Venice, leaving you with the only question,what one to visit first?
For us first stop was Vicenza and  Villa Michelangelo Vicenza – Starhotels Collezione, a heavenly retreat in the Berci Hills. Designed in the Palladian style it was built in the 18th century as the country house of the aristocratic Tomi family of Vicenza. In its latest incarnation, the villa is an elegant getaway for those in search of tranquillity and relaxationaway from everyday life.
The hotel boasts rustic-elegant interiors throughout, think beamed ceilings, polished Venetian floors, marble-clad bathrooms, and ample home-from-home comforts. The 52 rooms and suites are an authentic Italian dream, antique furniture and exquisite accessories compliment the high ceiling rooms timelessly, and the uninterrupted views whether you have a window or balcony are simply breath-taking, a perfect honeymoon retreat.
Italy is renowned for its exceptional food, and Hotel Villa Michelangelo certainly keeps that reputation alive. The hotel's restaurant La Loggia boasts large refined rooms with fireplaces, marble floors and floor to ceiling windows, allowing you once again to lose yourself in the stunning scenery, in summertime there's also a beautiful terrace where you can enjoy al fresco dining at its best.
From breakfast through to dinner and everythingin-between the food is exquisite.
Beginyour day with an American-style buffet breakfast, there's so much choice, you really won't go hungry. Dinner is afoodie's heaven, the menu offers creative contemporary dishes inspired by traditional recipes, the Scrigni pasta filled with pigeon ragout, zucchini flowers and crisp parmesan cheese, was an explosion of mouth-watering flavours, the pasta was just divine as was the lavender flavoured turbot fillet served with violet potato flan and olives, accompanied with wines that have been carefully chosen to pair with the dishes effortlessly, a meal here really is an Italian culinary dream.
The tranquil setting allows for you to do as little or as much as you want. Lie around the secluded pool, sipping cocktails, enjoying the summer sunshine (the pool has a retractable cover so even if it rains it can still be used), breathing in yet more of the spectacular views this hotel allows, or if you're feeling a little more energetic take a romantic stroll around the five hectares of grounds, get back to nature amongst the ancient trees, olive grove and dense forest and cocoon yourself in a bubble of love.
Hotel Villa Michelangelo is the ideal base for exploring Vicenza and its historic surroundings, whether you visit a museum, art gallery or one of the many Palladian-style villaswhere frescos adorn the walls and ceilings and have you wondering many times 'if only walls could talk!'
The Teatro Olimpico (Olympic Theatre) is an absolute must. Designed by Palladio in 1580, it is said to be the oldest covered theatre in existence. It has an absolutely extraordinary interior: elliptical in shape, the statues, seating and onstage scenery that realistically gives the appearance of long streets receding to a distant horizon all remain unchanged from the 16th century. It really is breath-taking.
Once you've soaked up all the history and culture in Vicenza it's time for part two of your getaway – Venice.
Venice never loses its capacity to enchant, whether you're visiting for the first or hundredth time, it still remains heart-stoppingly surreal.
Arriving by water taxi ( a great way to travel) our home whilst in Venice was theSplendid Venice Venezia – Starhotels Collezionein the very heart of the city nestled between picturesque canals and designer boutiques and just a stone's throw from St. Mark's Square and the Rialto Bridge.
The lounge and bar area have large arched windows overlooking the canal, and luxurious contemporary décor that includes intricate chairs and comfy sofas draped in rich velvet fabrics, Murano glass chandeliers hang from the ceiling giving off an atmosphere of quiet contemplation, creating an intimate ambience to relax in. The ideal spot to sip champagne and watch the romance of the city glide by.
The pièce de résistanceof the hotel though isits multi-level rooftop terrace, looking right at the Venice Bell Tower and never-ending skyline, it really is 'splendid' the perfect spot to enjoy an evening aperitif, and drink in the romance of Venice.
From the superior rooms to the Presidential suite, each room, of which there are 165 in total, has a unique style fusing contemporary and luxury design.
Our room, was a calming palette of light wood, with silver and lilac accents, damask textured wallpaper that evoked images of grandeur and bevelled Venetian mirrors added an opulent feel to the space.
Luxury continued into the bathroom, with luxury products and marble surrounds. The outside balcony was an added bonus, with its own table and chairs, for you to watch the gondolas float by on the canal below.
The hotel's restaurant, Le Maschere boasts many Venetian classics it's easy to see why it's a favourite amongst locals. Featuring a retractable glass roof means it's bright and airy and the perfect place for summertime al fresco dining or late-night star gazing.
The mixed fried fish and crunchy vegetables makes a great choice, along with the fettuccini pasta with scampiand fresh seasonal vegetables or sea food spaghetti with fresh clams, nothing disappoints it's all freshly prepared and is a real treat to the taste buds, full of fresh seasonal flavours, youcan almost taste the culinary passion in each mouthful.
There is so much to see and do in Venice, you're spoilt for choice, of course you have to embark on a romantic gondola ride, (no trip to Venice would be complete without one) but if you wanted to go that little extra you can learn to be a gondolier yourself, just ask the hotel to arrange it for you.
A guided walking tour is a great way to see all the main sights including the most renowned and famous building in Venice, St. Mark's Basilica a sublime piece of architecture that has stood the test of time since its creation in 1092, and to this day still remains one of the most important religious buildings in Northern Italy.
The Rialto Bridge, spans the impressive Grand Canal, and is undoubtedly the most famous and iconic bridge in Venice, connecting the San Marco and San Polo districts, the bridge is also an all-important pedestrian thoroughfare, surrounded by shops, cafes and restaurants.
Just next to the Rialto Bridge is AMO, an elegant Venetian restaurant located in the ground- floor atrium of the newly renovated T Fondaco dei Tedeschi by DFS, Venice's first luxury lifestyle department store.  Lunch here is a real treat, take your time, savour the flavours – who knew pizza could be baked, steamed and fried – believe me it's delicious!
Vegetable tartare with crispy black rice focaccia, sea bass carpaccio with green pepper and raw hand-chopped beef with a light wood-smoked sauce are other dishes that you really need to try. And when this dining delight has finished, make your way to the rooftop for the most amazing 360-degreeviews.
Whilst St. Mark's Basilica is the most famous building in Venice, St Mark's Square is the most famous piazza.Surrounding the square is a series of ornate buildings with arched walkways that frame it perfectly, a must stop for espresso and cake (although it's expensive, it has to be done) or as it's your honeymoon why not enjoy a romantic meal at Quadri, an 18th-century café, bistro and fine dining restaurant directly in the square.
Having recently reopened after a major restoration, it oozes magic and romance, an indulgent place to enjoy traditional Italian and Venetian dishes, with fresh fish arriving daily from the Rialto market, the sumptuous surroundings allow you to not only drink the wine but also drink in the atmosphere of St Mark's Square at night.