A trip to the bank these days is a visit to an impersonal modern large space, dominated predominately by machines doing the job of people, a completely different experience to banking from years gone by.
Many of the old bank buildings have been neglected, converted into modern apartments, coffee shops or worse completely knocked down, which is why it's so exciting and a breath of fresh air to pay a visit to The Ned, an architectural masterpiece that's set in the former Midland Bank building in London, just steps from Bank Station. Named after the original building's architect, Sir Edwin Lutyens. When Lutyens got married, he started signing his name NEd, with a capital E as well as a capital N, because his wife, a dotty aristocrat whom he doted on, was called Emily.
Walk through the doors and you're transported back to 1920's glamour, original features have been carefully preserved and reinvented polished walnut walls, African malachite Art Deco pillars, crystal chandeliers and old banking counters in place as room dividers. Wherever you turn it's that great care has been taken when remoulding this bank into an opulent, luxurious 5-star hotel.
The massive open-plan main hall is a foodie's dream, eight restaurants are housed here, all separated by screens, cleverly placed bars and private booths. Whether it's coffee, breakfast, lunch, dinner or just drinks you're spoilt for choice – the atmosphere is electric and complemented even more by the live music that dominates an elevated central bandstand.
The feel of a bygone era continues as you effortlessly check in, (I half expected to turn around and find Hercule Poirot with his vintage leather suitcase behind me) and then it's time to explore this architectural masterpiece. The 1920's vibe continues with opulent art deco furniture that compliments the deep rich colours effortlessly, think red velvet chairs, gold chaise, fringed lamps, crisp white sheets set against the backdrop of a dark wooden bed, along with special touches of crystal cut champagne flutes, silver caddies for tea, coffee, sugar and a large Aztec rug covering the wooden floor.
The bathroom is just as impressive, with black and white tiles creating a chequered effect on the floor, there's an abundance of Cowshed toiletries all full size, so you can decide whether your mood requires an 'uplifting' 'invigorating' or 'bracing' shower gel!
The temptation to explore the rest of the hotel, slightly outweighed staying in our room, especially as we were exploring parts of the hotel that are only available to Ned's Club members and privileged guests!
First the upstairs rooftop, an abundance of space with its own restaurant, bar, outdoor terrace and heated pool, with awesome views over the London skyline. You can't come up here and not lie back on one of the poolside loungers, glass of champagne in hand breathe in the atmosphere and marvel at the skyscape in front of you.
Next, it's downstairs, and the underground Vault bar, a must-see for movie buffs, the 25-tonne door, made by Chatwood Safe Company (one of only two ever made) was used as inspiration for the vault in the 1964 James Bond film, Goldfinger! It leads into the original Midland Bank strongroom, now an exclusive all-hours cocktail lounge, with plenty of reminders of its original purpose including more than 3,000 original safety deposit boxes (some still in use), the perfect place for a pre-dinner drink, nightcap or if like us who wanted to just sit in awe at the ambience and history behind the vault – both!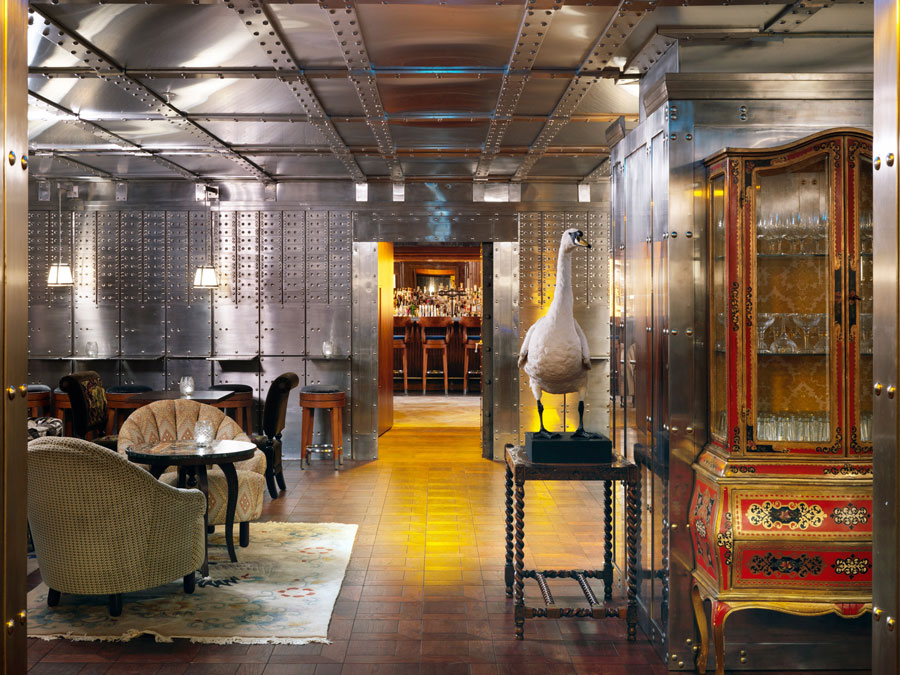 Back upstairs, you're certainly spoilt for choice when it comes to eating and drinking. Eight restaurants sit amongst The Ned's historic banking hall. Each with its own distinct space, separated by the stunning verdite columns and rows of walnut banking counters (think Harrods food hall, but on a much grander scale).
We decided to dine at Kaia, a modern Asian-Pacific-inspired restaurant, the atmosphere in and around the whole banking hall is buzzing, an open kitchen allows you to watch the chefs at work, (slightly reminiscent of a recent trip to Japan). Kaia specialises in healthy food that include dishes such as sushi, sashimi, and poke bowls, and we couldn't wait to see if it tasted as good as it looks! There's not really a starter, main and dessert here it's all about sharing plates, coming out as and when they are ready – the menu is an array of mouth-watering treats – we opted for a selection of sushi, purple yam fries (these were addictively tasty, one taste and you can't stop), Japanese fried chicken which was delicious and perfectly fried, tantalising crispy prawns and succulent lamb cutlets. If you only have one thing off the menu here though, it has to be a poke bowl, not only is it an instagrammable dream, it's a flavour bomb full of rainbow colours and tantalising textures – the perfect dish to accompany this fabulous taste experience.
Next morning after an indulgent breakfast at Italian restaurant Cecconi's, another faultless restaurant within The Ned (you even get asked what milk you would like your coffee made with), it was time for a little me time in another Ned's Club hideaway – The Spa. Built around a 20-metre indoor pool, complete with a sauna, steamroom and traditional Moroccan hammam, it's the perfect place to completely unwind and do nothing or if you're feeling a little more energetic why not pop into Ned's Club Gym.
The Ned is a treasure trove of hidden rooms, experiences, history and architecture, around every corner there's something new to discover, an elegant retreat for business or pleasure and guaranteed to have you returning time and time again.
BOOK IT
Prices start from £230 per night for a crash pad room based on two people sharing and include access to Ned's Club Gym and Spa.
Prices start from £510 per night for a Heritage room based on two people sharing and include access to Ned's Club Upstairs and Ned's Club downstairs
For more information or to book, visit www.thened.com