If you enjoy the great outdoors and all it can offer, then Brecon Beacons is the ideal place to visit, whether it's for a few days or a week or two, a relaxing getaway or an action-packed adventure it has it all and more. With its lush landscapes, moorlands, waterfalls, meandering streams, traditional quaint market towns, and so much more, you won't ever tire of finding something to do.
As you make the transition into Brecon the whole aspect changes, gone is the polluted air and flat landscape, instead you can feel the freshness as you breathe in the mountains and their surrounding beauty, the views are glorious and you feel the stress of life slowly evaporate from your body.
There are so many places to stay, whether it's a self-catering cottage, luxurious hotel, a glamping pod or a historic country house, the choice is yours.
I always like to imagine myself in an episode of Downton Abbey, sipping tea in the drawing room like Lady Grantham, and thus the elegant country house hotel Llangoed Hall seemed the perfect choice for us to use as our base for a few days of exploring the Brecon Beacons.
Steeped in history this stunning house is believed to have been the legendary 'White Palace' – home to the first Welsh parliament. Having been won in a card game by the MacNamara family it stayed with the family for two generations until 1847. In 1912 Clough Williams Ellis re-designed it into a country house and in 1987 it was bought by Laura Ashley's family who in 1990 opened it as a Country House Hotel. The Laura Ashley influence is of course evident as is the elegance and style that appears everywhere, from the fine art collection gracing the walls through to the Grand Piano at the foot of the elegant wooden staircase (that hubby felt the need to ping every time we walked by!) this certainly is the perfect place to retreat to after a day exploring, ideal for a little peace and relaxation.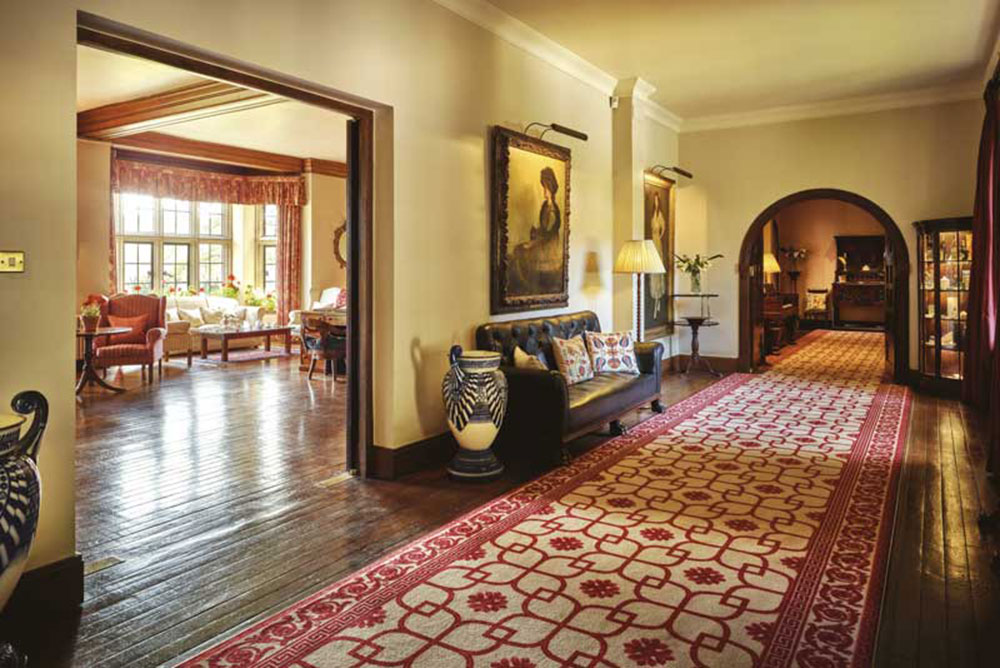 Our room, a Master Suite reached via the solid wooden staircase with its intricate detail and the most amazing mural on the wall had Laura Ashley fabrics adorning the King Size bed, sofa and chairs. Crisp fresh bed linen, antique furniture, Penhaligon products in the bathroom, and tall, arched windows that gave views of the croquet lawn and the idyllic Wye Valley beyond. That's without the finer details – a crystal decanter of sherry, crystal glasses, fresh fruit and a selection of waters– Nothing is left to chance here it is all carefully thought out to ensure you feel as if this is your country house home not a hotel.
Food & Drink
As well as its awe-inspiring scenery and opportunities for great outdoor activities, Brecon Beacons is a foodie's paradise, from elegant restaurants, to family run smokehouses, quaint village pubs and fresh farm food, you certainly won't be short of places to visit. We of course started our culinary treats with a fine dining meal in the elegant dining room at LLangoed Hall.
The food is sourced from the freshest and finest local ingredients with fruit and vegetables from the hotel's very own kitchen garden. It's clearly evident from the dishes we ate that Head Chef Nick Brodie has a flair for both flavours and presentation. We dined on his six-course tasting menu, all the dishes were creatively presented, divinely delicious and a real treat to the taste buds, this is fine dining at its best, the langoustine was fresh and meaty and paired perfectly with foie gras and coffee bisque and the lamb (welsh of course) was a meat eaters dream,succulent and flavoursome with a slight kick from the tartare and pickle creating an explosion of tastes that definitely made this my favourite dish.
If fine dining's not your thing then take a visit to the Welsh Venison Centre and Farm Shop, an award-winning, family-run farm established as a venison farm by the Morgan family in 1985, here you'll see deer, sheep and cattle roaming freely around the land, shop the fresh butcher's cuts or deli products, there's even a farm shop café where there's a whole array of freshly cooked food including Venison burgers and of course homemade cake.
The Angel Hotel a luxurious, four-star hotel, built in the middle of Abergavenny as a coaching inn in 1829, is a minute's walk from Abergavenny Castle and Museum, just perfect for a lunchtime feast. Be sure to try the mussels in aThai green curry, the flavours are amazing as is the leek and wild mushroom risotto, there's an array of great food as well as a three-course set menu that's well worth its £32 price tag.
The Three Horseshoes in the small village ofGroesfforddis another must, don't be fooled by the façade, walk inside and it's like Alice walking through the looking glass into a mix of traditional and contemporary chic. On a cold day a roaring log-burner adds to the cosy ambience and when the sun shines there's a welcoming beer garden ideal for soaking up the rays, with quirky beach huts that seat 8, all with a table, heater and lighting.
Food is just as impressive with starters that include warm spiced hummus with chorizo and flat bread, crispy squid served with chilli jam, salted peanuts and pineapple. Mains can be traditional pub grub such as beer battered fillet of Cornish haddock, chips and mushy peas or as elaborate as lamb loin crispy rack with turnips, hazelnuts and salt baked beetroot, whatever you choose you're guaranteed fresh, flavoursome, inventive food.
Brecon Beacons wealth of food just keeps coming, hidden off the beaten track – literally, (think of the thrillers where the car breaks down on a desertedcountry lane, no phone signal, no lights, nothing in sight) surrounded by the rolling hills of the Black Mountains is Gliffaes, a true country house and fishing hotel. The food served here is very much in keeping with its surroundings: classic and ingenious, , you begin your experience with a drink in the bar and are shown to your table once your food is ready.
In the spacious dining room, we ate starters of scorched cod served on a bed of seaweed and cockle quinoa and a crab and Welsh ale tartlet, the flavours and presentation are divine. The Assiette of lamb was heavenly, and if you only choose one dish it would have to be the fillet of sea bream served with crab ravioli, the explosion of flavours on the taste buds was heavenly. When your hubbies a lover of Baileys it's only natural he chooses the Baileys pannacotta for dessert – the verdict, can I have another?
Black Mountains Smokery is a family-run, gourmet food business, if you have time be sure to pop in for a tour and taste of some of the award-winning products.
If all this food has made you thirsty, then a must visit is a Tour of Penderyn Whisky Distillery, set in the foothills of Brecon, it's the only commercial whisky distillery in Wales and one of the smallest distilleries in the world, a great informative tour followed by tastings –  and don't worry if you're not a connoisseur of whisky there's gin and vodka as well as Merlyn Cream Liqueur (think Baileys but creamier), presented in a black matte bottle with hand drawn calligraphy reflecting its smooth and mellow flavour, and looked far too pretty for us not to take a bottle or two home!
If you only visit one other place whilst you're in and around Brecon it has to be the quaint oldeworlde market town of Hay-on-Wye, often described as 'the town of books' it's like one gigantic library! Amble through the cobbled streets, with your book shop map in hand, it's a literacy dream! Most of the bookshops have their own genre, including 'Horror' 'Thrillers & Crimes' "Sc-Fi" "Murder & Mayhem" choose your interest, pop in, browse the books, sit down on one of the comfortable armchairs and enjoy. Everything is so laid back, no hard sell – this town is about embracing a love of books and enjoying everymoment you can – Purchase made or not you're made to feel so welcome, and the knowledge that each book store owner has is better than google!
Of course, hidden between the book shops are quaint tea rooms and what could be more ideal that flickingthrough your purchase over coffee and cake!
Each year, the annual Hay festival is held here, a celebration of all thingsbooks. Bill Clinton once called it the 'Woodstock of the Mind'.Attracting book lovers, writers, and artists, from all over the world, this usually quiet town, becomes a buzzing hive of literature, live performances, food stalls and entertainment, an adventure of literary proportions (literally!)
The sky at night in Brecon is a star gazers dream, Brecon Beacons National Park has some of the highest quality dark skies in the whole of the UK. Unfortunately for us the conditions were a little wild for us to enjoy an evening gazing at the starlit sky, which is such a shame, but on the positive it does give us an excuse (not that we need one) to visit this beautiful part of the UK again!