In the heart of Europe, Lake Constance offers travellers a wealth of cultural activities to experience this festive season. The four countries around the lake including Germany, Switzerland, Austria, and the Principality of Liechtenstein, are perfect for exploration and Christmas cheer. From star-strewn St. Gallen and magical Mainau Island to the mountainous wonderland in Vaduz and a festive cruise across the lake, there are over 70 Christmas markets to explore around the lake, with local delicacies to taste at each one.
Trace Your Way Through The Constellations in The City of Stars – St. Gallen, Switzerland
Celebrating 10 years as the 'City of Stars', St. Gallen lies on the Swiss shore of Lake Constance. Every winter, the city of St. Gallen illuminates the centre with seven hundred stars, guiding guests through the iconic Christmas market made up of 50 Christmas stalls that line the narrow streets of the romantic old town, selling traditional goods, gifts and favours.
Situated just south of Lake Constance, St. Gallen is a charming city that offers travellers the chance to wander a cultural hub visiting the statue of St. Gall, while marvelling at the architecture and museums that embody the city. Since 1983, the Abbey of St Gallen has been listed as a UNESCO World Heritage Site, home to a Baroque cathedral and the oldest medieval monastery library in the world, that has become the symbol and treasure of St. Gallen. The city sets itself is the ideal base for travellers on a journey to visit the four countries that surround Lake Constance.  Local culinary delights include Bieber from St. Gallen (gingerbread treats made from honey and filled with marzipan), Raclette and Fondue and Nusstorte Nut Cake (pie with a nutting filling).
From 28th November – 22ndDecember 2019, visitors can stay in a hotel of their choice for 1-3 nights in the city and receive a free Christmas-themed city tour and a Christmas gift, courtesy of St. Gallen.
Stay at Einstein St. Gallen – Hotel Congress Spa from £122 per person per night for a double room with breakfast included. To book,visit https://tportal.toubiz.de/StGallen/package/.
Uncover The Magic of Christmas on Mainau Island, Germany
Throughout the year, Mainau Island is known as 'Flower Island' for its vibrant displays of foliage and blooms from around the world.  During the cooler months, while the gardens sleep, Mainau comes alive with winter magic. This year, guests are invited to discover the brand-new boutique market located in the baroque castle courtyard where they can find handmade treasures and local culinary delights.
Guided tours around the snow-covered Island, Swedish buffets, and cosy spaces such as the Palm House and Butterfly House beckon visitors to slow down and absorb the Christmas ambiance. During the Advent season, guests are encouraged to take part in a hands-on baking workshop where they will learn to craft homemade Lullebullar (pastry with saffron), Pepparkakor (gingerbread) or Kanelbulle (cinnamon rolls).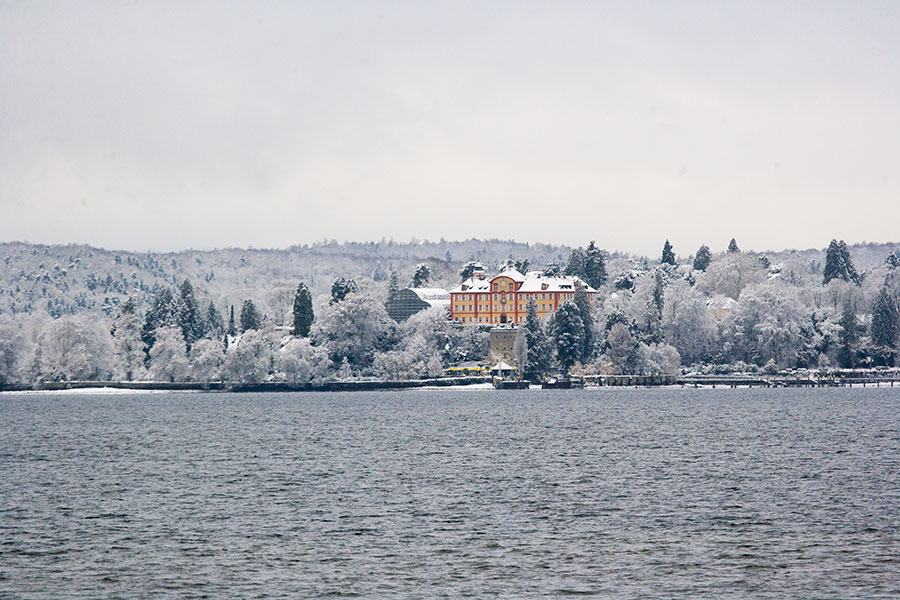 You can book a baking workshop on 6th December from 2-5.30pm, with prices starting from £22 per person.
Cruise Between Two Countries and Three Christmas Markets in Bregenz, Austria and Lindau, Germany
Travellers who want to maximise their time in the region can do so with a festive cruise across the lake from Bregenz, Austria to Lindau Harbour, Germany that showcases the wintry beauty of Lake Constance as well as the charming model train, nativity scene and fairy tale forest on board.  As the ship enters the lighted harbour, it also passes the famous illuminated lighthouse and Bavarian Lion sculpture.
In addition to the cruise, guests can experience three Christmas markets in one day across the two countries.  The first two are located in Bregenz, Austria: one located at the newly designed market place in the city-centre, and one in the Old Upper Town.  The city-centre Christmas market includes a nativity with live animals, a small ice rink, puppet theatre, and countless festive amusements.  While the Upper Old Town Christmas market takes place in the medieval lanes of the city, offering a quieter, but no less magical, experience.  Delicious local treats include Käseknödel (soft cheese dumplings, Glühmost (delicious hot apple cider drink) and Riebel (savoury or sweet polenta vegetarian dish).
On arrival at Lindau Harbour, guests can immerse themselves in the harbour Christmas Market where they'll find 170 festively decorated stalls, craft gift ideas, and special Christmas treats.
Stay two nights at Bayerischer Hof Lindau, (21-24 November, 28 November–1 December, 5-8 December, 12-15 December) with prices starting from £210 per person in a double room and include breakfast buffet, access to spa facilities, a complimentary gingerbread pastry and cup of mulled wine, three-course Advent menu, free admission and one drink at "Make Your Game" Lindau Casino, additional bookable activities including Advent rides, city tours, massages and beauty treatments.
Visit www.bayerischerhof-lindau.de for more details or to book.
Find Your Fairytale at The Foot of The Princely Castle in Vaduz, Liechtenstein
In the heart of Vaduz's old town, a wintery wonderland comes to life each advent season. From this vantage point, visitors can experience a festive view of the fairy tale Princely Castle perched above the city while perusing over 70 Christmasstands heralding handcrafted Christmas gifts. Local treats await, including Käsknöpfle mit Apfelmus (cheese pasta with apple sauce), Ribel (warm polenta dish with milk, cream, sugar or also made with sour cheese), and Tatsch mit Kompott (mini pancakes served with warm fruit preserves), offering foodies a true taste of the region.
Children can enjoy a carriage ride or a festive ride through the city on a fairy tale train, and families can test their ice-skating skills at 'Vaduz on Ice.' Little ones can also take a visit to the Christmas Mailbox to post a letter to Father Christmas.
Stay at Residence Vaduz Hotel between 8th November 2019 – 6th January 2020 with prices starting from £216 per room per night, on a room only basis. To book, visit https://www.residence.li/