Hailed as The Great British Bake Off for flower arranging, Netflix's new competitive series The Big Flower Fight has become a lockdown hit.
If you've been inspired by the talented florists, sculptors and garden designers' displays in this binge-worthy series, the gardening experts at The Greenhouse People give their top tips for creating your own at home.
Whether you're taking inspiration from your own garden flowers or are supporting your local florist, follow these golden rules to create stunning displays to brighten up your mood and your home…
Select a Theme
Follow in the contestant's footsteps and give yourself a clear theme for your display. Whether this is organised by colour, style, season or even something a bit more abstract.
In the show, the 10 pairs are given a different theme by which to make their flower creations. From Sea Creatures, Green Giants, Fairy Tale to Fabulous Floral Fashion, there are plenty of themes to choose from to suit your style.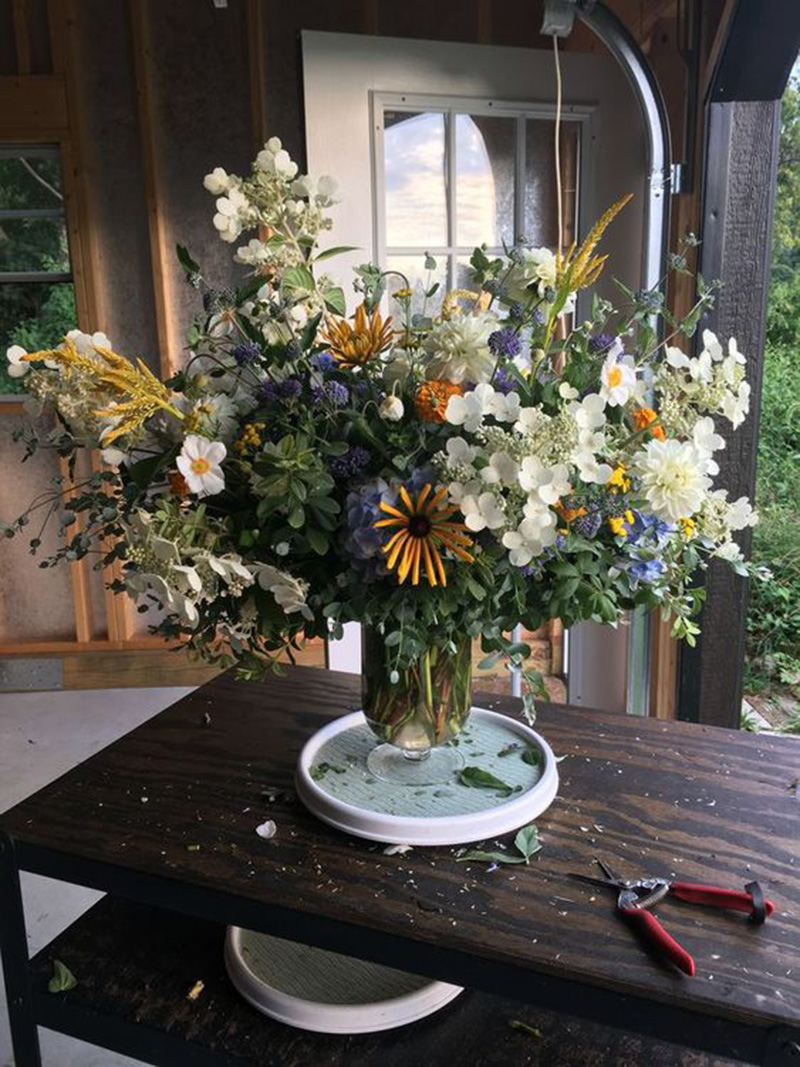 When planning your own stunning creation, bear in mind the environmental impact. Try to stick to florals in season (being summer you have the pick of the crop!), avoid cutting too many flower heads from the same plant and buy local.
Visiting a local florist supports your local economy and their stock is likely to be better quality than the supermarkets.
Size DOES Matter
A key takeaway from the show is that when it comes to flower arranging, size really does matter. While you may not have anyone judging your display, maximalism always gets the biggest praise.
If you want to create a focal point in your home with a floral display, don't be afraid to go big. Statement blossoms like hydrangeas, roses, lilies and sunflowers add beautiful bulk to an arrangement and draw the eye in. Fill out the rest of your display with daintier blooms and soft foliage.
Make sure to leave enough space between the stems so individual flowers have room to shine. Criss-crossing foliage in the vase first creates a sturdy base for your statement blooms.
Play with Depth and Texture
Flowers might be the body of the bouquet but incorporating different elements like leaves, twigs and twine can add depth and texture. They are also much cheaper, or free if you can source from your garden..
Use green foliage – think Myrtle, Ferns, Eucalyptus – to add height and width to your display; a general rule of thumb is one and half times the size (upwards and outwards) of your vase.
Filler flowers can also add a pop to a floral arrangement and give you extra height. Try Delphiniums, Poms, Snapdragons and Gypsophilia.
Cutting different stem lengths can add depth to your arrangement and give you more room to play with. Add large, heavy flowers first and remember to keep turning your arrangement to create an even display on all sides.
Choose the Perfect Vase
There is an art to matching flowers to the perfect vase. Complement and support longstemmed flowers with a column vase, an hourglass vase is perfect for shorter stemmed round blooms to accentuate their voluptuous shape, and a round or fish-shaped vase works best with tightly-constructed mixed bouquets to create a stylish domed effect.
If you fancy getting a little more creative, many household items can be repurposed as a vase for your beautiful displays. An antique watering can, ornate teacups, old gin or whisky bottles are just some clever examples.
Make it last
One of the major challenges contestants face on 'The Big Flower Fight' is keeping their displays looking vibrant and fresh for judging day.
After putting in all the hard work into creating an arrangement you want to make it last. Keep flowers away from direct sunlight and heating vents.
Refresh the water and trim the stems with a sharp knife every couple of days to encourage water absorption. Florist's foam can help keep your flowers fresher for longer, just soak the foam for 15 minutes before placing your display and re-water every couple of days.
If your buds are slow to open, adding lukewarm water can encourage them to open fully. Once open, spray the heads with water every day to keep them looking bright and fresh.